Zombie Room Summer Special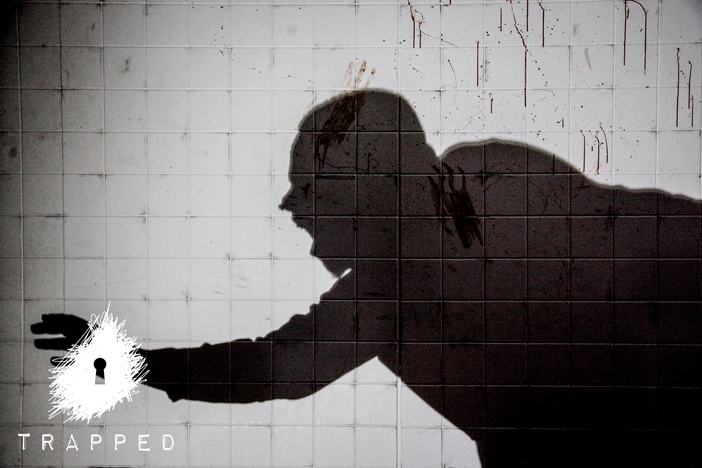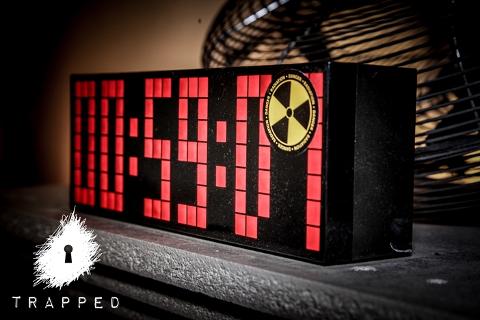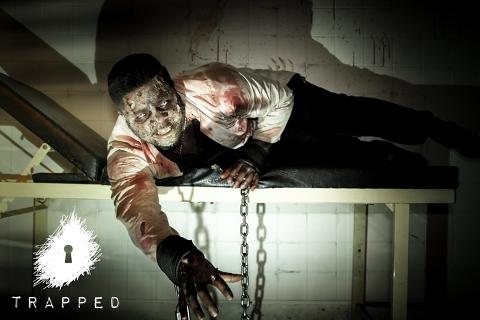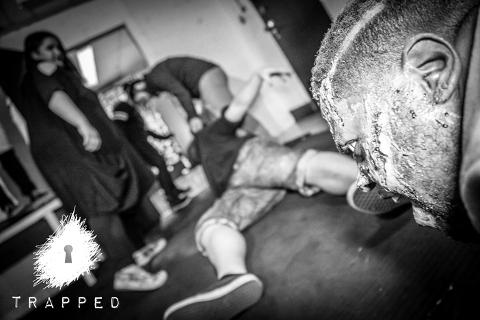 Duration: 1 Hours (approx.)
Location: East Village, Stratford, London
TRAPPED IN A ROOM WITH A ZOMBIE
An escape room with BITE!
- - - - -
Prepare to be locked in a room with 5 other people and 1 zombie that is chained to the wall! Hidden in the room is a key that will unlock the door to your survival. To find the key you must locate numerous clues and solve riddles.
Each session takes 2 - 6 people at one time, so, like a real zombie apocalypse, you'll have to work with strangers to survive. Or hide behind them to save yourself from the zombie! The choice is yours. Can you work together to save yourselves and humanity, or will you put yourself before the group and civilization as a whole?
Every five minutes the hungry zombie's chain will be released another foot. Within an hour, the zombie will be able to reach you. You have 60 minutes to the find clues, solve the puzzles, unlock the door and escape the room without getting eaten!
- - - - -

Trapped in a Room with a Zombie runs open sessions Monday to Sundays for 6 players from the same household or support bubble.
The minimum number of players is 2 in order to be able to complete all of the tasks in the room.

Please inform us in the special requirements section of the booking form if anyone is under the age of 16.
- - - - -

FAQs
Will I really get eaten if I don't escape?
Cannibalism has been outlawed since 1804, so the zombie is not legally permitted to eat you.

What happens if the zombie touches me?

Don't get touched by the crawling zombie! If you get touched by the crawling zombie, you will be required to sit and no longer will be permitted to search for clues, but you can still participate verbally. The zombie is chained to a wall and may not roam freely, but the chain is released another foot every five minutes so you better be quick at putting together the clues, solving the riddles and finding the key that will set you free, otherwise you will be zombie bait.

How many people are in the room at once?

The game is designed to allow up to 10 people in the room at once, however guidelines only allow 6 players from the same household or support bubble. You will not be in a game with other people you do not know.

How long is the experience?

This depends on how much smarter you are than a zombie! If you do not find all the clues and solve the puzzles that unlock the door within 60 minutes, you will be eaten by a zombie and we will have to remove your body from the room. Allow one and half hours for the entire performance for instruction time and a solution explanation.

What should I bring with me?

Your inner Sherlock Holmes and all the sleuthing skills you can muster! The answers to the clues, riddles and puzzles are all in the room. You will be using your ability to look for clues, figure out logic, communicate with the other performers and apply deductive reasoning to escape. Don't give up! Keep searching for clues. You are going to have to work fast!

Can I participate if I am pregnant?

WE DO NOT RECOMMEND this show for women who are pregnant, or children under the age of 14 years old. INFANTS will not be allowed into the room, zombies don't like baby food.

How old do you have to be?

You must be 14 years or older to participate. Participants under 18 years of old need a parent or guardian with them to participate.
The game may be customised for groups younger than 14 but these must be arranged in advance and we must be informed ahead of time to organise age appropriate clues.
Are mobile phones permitted?

Mobile phones are not allowed to be used in the room. The use of electronic devices or any outside tools are strictly prohibited and you will immediately be removed from the show if you attempt to use them.

What happens if I arrive late?

The door to the room closes exactly at the time you signed up for. Please arrive 30 minutes early to make sure you are there before the room is locked. You will not be permitted into the room if you are late. There are no refunds for late arrivals.
Can I schedule a private show for just our group?

To reserve an entire show for your group, you need to purchase all 10 tickets at once. Please contact us if there are no show times available with 10 tickets and we will create a special show time for you.

What's your cancellation policy?

We regret that tickets cannot be exchanged or refunded after purchase.